Volunteers have begun burying victims of Indonesia's deadly earthquake and tsunami in a mass grave.

The disaster devastated swathes of Sulawesi island and has left at least 844 people dead.

Four days after the natural disaster hit, some remote areas have yet to be contacted.

A lack of heavy lifting equipment is hampering rescuers' attempts to reach people who remain alive in the ruins of collapsed buildings.

"Communication is limited, heavy machinery is limited… it's not enough for the numbers of buildings that collapsed," said Sutopo Purwo Nugroho, spokesman for the National Disaster Mitigation Agency.

Dozens of people are feared to be underneath the rubble of one hotel alone, the Roa-Roa in the devastated coastal resort of Palu.
Yenni Suryani, of Catholic Relief Services, said aid agencies were struggling to get staff into affected areas as the main airport at Palu was damaged, landslides had cut road links and "power is out almost everywhere".

Some survivors have been looting shops for food, water and fuel, telling reporters they have run out of supplies.
Reuters news agency reports that police are escorting aid convoys to prevent supplies being stolen.
President Joko Widodo has welcomed offers of international help.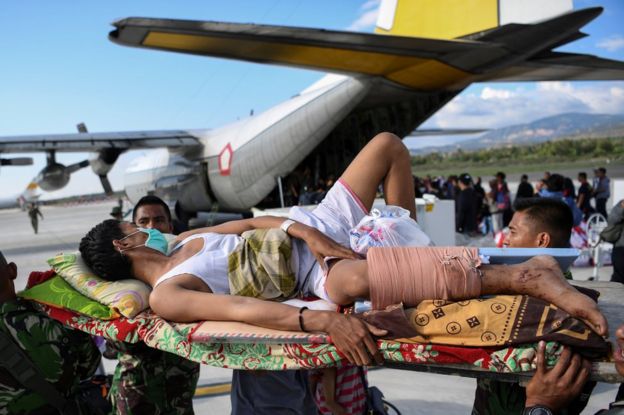 Why mass graves?
The authorities say they want to prevent an outbreak of disease caused by decomposing bodies.
In the hills above Palu, AFP news agency reports, volunteers filling a mass grave were instructed to prepare for a total of 1,300 victims to arrive.
Trucks arrived with bodies wrapped in orange, yellow and black bags. They were dragged into the grave and motorised diggers poured earth on top.
But many people are still looking for missing loved ones.
Adi told AFP he was hugging his wife by the beach in Palu when the tsunami struck, and has not seen her since.
"When the wave came, I lost her," he said. "I was carried about 50 metres. I couldn't hold anything."